"Bianco e Nero" – Vol. 588-589 (2017)
Edizione bilingue italiano/inglese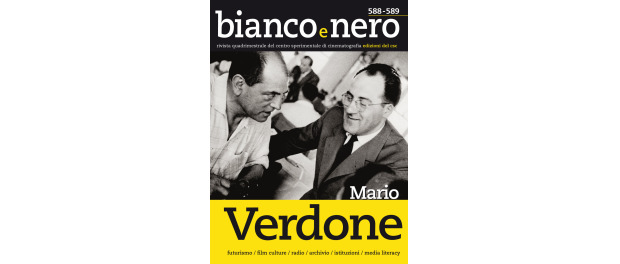 Bianco e Nero
Rivista quadrimestrale del Centro Sperimentale di Cinematografia
Vol. 588-589 (numero doppio) dedicato a Mario Verdone
Isbn 978 8898 623662
Prezzo del numero doppio fuori abbonamento 20 euro
80° anno
• Storia
Bianco e Nero è la più antica rivista italiana di studi cinematografici: nata nel 1937 come rivista del Centro Sperimentale di Cinematografia di Roma, festeggia nel 2017 ottant'anni di vita. Lungo il corso della sua storia si è trasformata in molti modi, mantenendo però al centro della politica editoriale il valore scientifico e l'originalità dei contributi ospitati.
• Come abbonarsi
La rivista è pubblicata dal Centro Sperimentale di Cinematografia in coedizione con Edizioni Sabinae.
Per abbonarsi si può fare riferimento all'editore a questo indirizzo:
Edizioni Sabinae
Viale Bruno Buozzi, 19
00197, Roma
Tel. 06 97882515
e-mail: ordini@edizionisabinae.com
ABBONAMENTI BIBLIOTECHE E ISTITUZIONI:
Casalini Libri Spa
info@casalini.it
tel. +39 055 50181
___________________________________
www.edizionisabinae.com
Abbonamento annuale per i Privati: euro 32,00
Abbonamento annuale per Enti e Istituzioni: euro 40,00
Abbonamento annuale estero: euro 40,00
Il prezzo di un singolo volume di Bianco e Nero è di euro 16,00
(arretrati dell'anno 2017 euro 20,00)
I nuovi abbonati privati riceveranno all'atto della sottoscrizione, unitamente all'invio del primo numero della Rivista, un libro di cinema in omaggio.
"La Repubblica", 8 ottobre 2017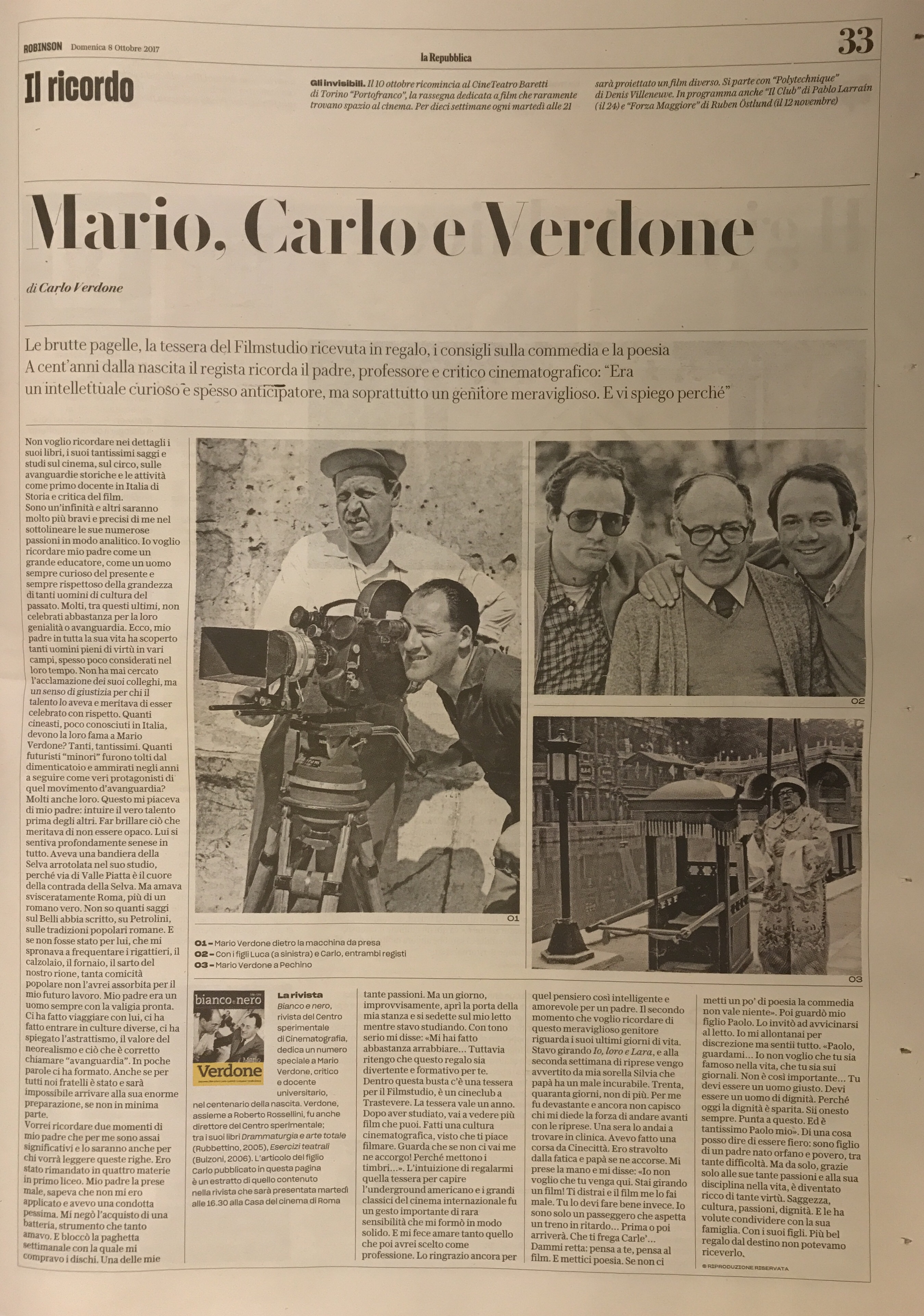 "Il Corriere della Sera", 8 ottobre 2017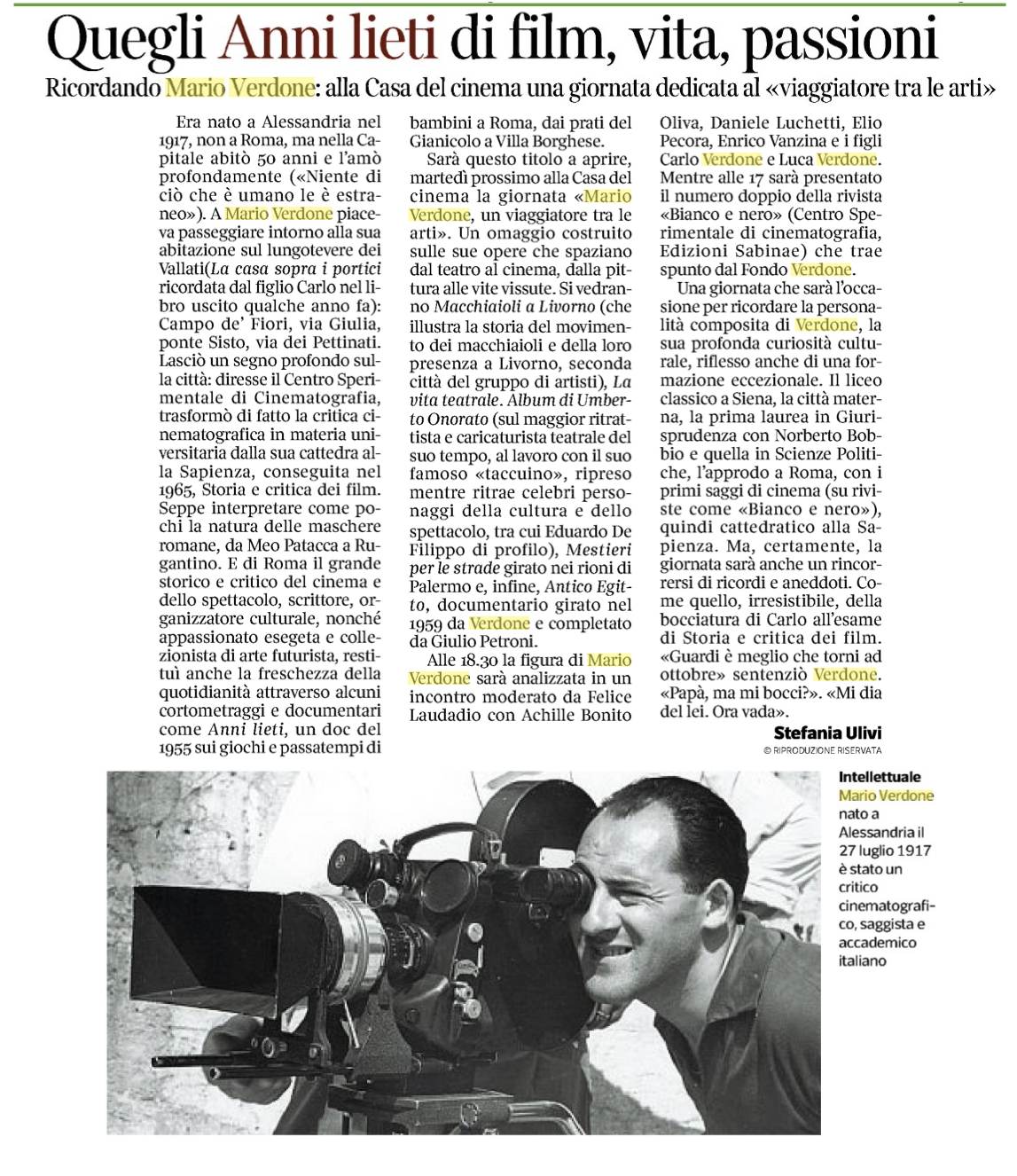 "Avvenire", 8 ottobre 2017
________________________________
Presentation of the Journal Bianco e Nero
• History
Bianco e Nero is the oldest film studies journal in Italy: established in 1937 as the journal of the Centro Sperimentale di Cinematografia in Rome, in 2017 it is celebrating its eightieth birthday. During its history, it has transformed in many ways, while maintaining the scientific value and originality of its essays at the centre of its editorial policy.
• The Editorial Line Today
Bianco e Nero is a quarterly journal, with an international scientific and editorial committee. Since issue no. 584 of 2016 its scientific coordination has been entrusted to Mariapia Comand. The journal, whose articles are published in Italian and English, is subject to a double-blind peer review and is recognized by the Italian Agency for the Evaluation of the University and Research Systems as a class A journal in the L-ART/06 (cinema, photography and television) disciplinary sector. An application is currently underway to enter the SCOPUS international database.
The areas of interest and methodological approaches hosted by the journal address a range of topics and views on the cinema, and audiovisual media in general: a philological vocation concentrating on archive investigations combines with specific attention to the cultural history of the languages of audiovisual media (cinema, TV, videogames, video art, …). In particular, the 2016 issues were dedicated to the topics of audiovisual assembly in the digital era, the significance of the 1980s in media cultures in Italy (cinema, television, videogames, comics), and the personal archive of the actress Alida Valli. The issues planned for 2017 will revolve around the giallo genre in Italian cinema from 1910 to 1972, a critical and philological retrospective on the work of Mario Verdone (through research in his archive), and the representation of the 'Latin Lover' figure in contemporary Italian cinema.
• Scientific Committee
Aldo Grasso (chairman, Catholic University of the Sacred Heart, Milan), Gianni Canova (IULM University Milan), Lucia Cardone (University of Sassari), Giulia Carluccio (University of Turin), Giovanna Fossati (Universiteit van Amsterdam), Stephen Gundle (University of Warwick), Alan O'Leary (University of Leeds), Sandra Lischi (University of Pisa), Giacomo Manzoli (University of Bologna), Millicent Marcus (University of Yale), Veronica Pravadelli (University of Roma Tre, Rome), Dana Renga (The Ohio State University).
• Editorial Board
Stefano Baschiera (Queen's University Belfast), Sila Berruti (Università degli Studi Roma Tor Vergata, Rome), Andrea Mariani (University of Udine), Simone Natale (Loughborough University, UK), Cecilia Penati (Università Cattolica del Sacro Cuore, Milan), Chiara Tognolotti (University of Florence), Federico Zecca (University of Bari).
• How to Subscribe
The journal is jointly published by the Centro Sperimentale di Cinematografia and Edizioni Sabinae. To subscribe, please contact the publisher at this address:
Edizioni Sabinae
Viale Bruno Buozzi, 19
00197, Rome
Tel. 06 97882515
e-mail: ordini@edizionisabinae.com
www.edizionisabinae.com
Year's individual subscription: EUR 32.00
Year's
subscription for organizations and institutions: EUR 40.00
Year's
subscription outside Italy: EUR 40.00
The price of a single issue of Bianco e Nero is EUR 16.00
(2017 back issues EUR 20.00)